BIOGRAPHY
Zoe Preece works as an artist from Fireworks Clay Studios in Cardiff.  She studied Ceramics at Cardiff School of Art and Design (2000), completed a Masters in Ceramics also at Cardiff School of Art and Design (2010), and a PGCE (FE/HE) at Cardiff University (2013).  She currently lectures on the BA Artist: Designer, Maker programme at Cardiff School of Art and Design, and is Ceramic Tutor for UWC Atlantic College.  Zoe has exhibited both nationally and internationally.  She was recently awarded the Gold Medal for Craft and Design, the CASW Purchase Prize and the Josef Herman Award – the People's Choice at Y Lle Celf, The National Eisteddfod of Wales (2018); she was a juror prize winner in the international exhibition Materials: Hard and Soft, Denver, US (2017); she was selected for the Biennale International de Vallauris, Creation Contemporaine et Ceramique (2016), and for the artist in residence programme 'Makers Using Technology', Design Forum (2015).  In 2015, she co-curated an exhibition titled The Sensorial Object, with Dr. Natasha Mayo.  Other recent group exhibitions include selection for The National Eisteddfod of Wales (2015, 2014, 2011), and the British Ceramic Biennial (2011).
STATEMENT
As an artist Zoe is drawn to thresholds and to in between spaces.  The relationship between formal structure and transitory moments of flux, between restraint and fluidity are ever present in the works she creates.
Works contemplate the meniscus on a spoon filled to the point of tipping, or the precarious balance of two cups stacked one on top of the other on a kitchen surface – each on the brink of something.  There is an uncertain beauty that Zoe recognises here and a longing that is resonant of the human condition.  The white porcelain clay becomes a metaphor, its movement from one state to another embodying aspects of human being.
Material and process take on significance for this reason, echoing the intent of the works.  Ceramic forms are carved from plaster on the lathe or by hand, before being moulded and cast in porcelain.  Carving the handle of a saucepan or a mug takes time and attention, and her commitment to this process is a reflection of her feeling for the objects and their signification.  She uses the heat of the kiln chamber to seek out moments of fluidity, arresting firing processes mid point in order to capture otherwise imperceptible moments.
Zoe also works in collaboration with Fablab Cardiff, making use of their 3D scanning and CNC milling technologies to produce milled walnut tableaux of ordinary everyday moments.
Her work seeks out a silent grace in the midst of the most mundane of domestic scenes – the washing up or a table part cleared – encouraging a sense of tenderness towards everyday experience.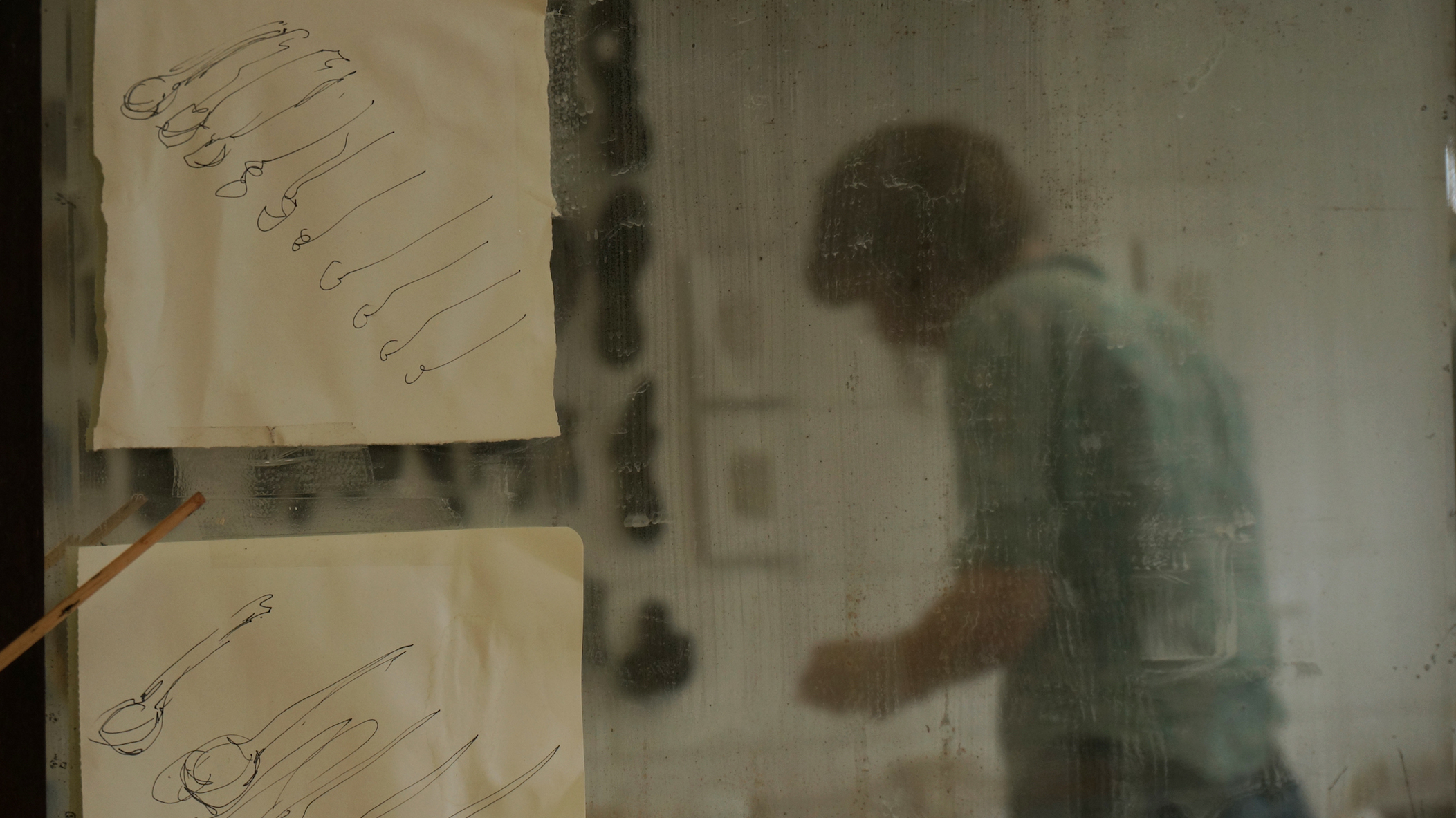 With her quiet, unassuming work, Preece reminds us that it is often in the mundanity of life that we find some of the most poignant and poetic moments.'
David Trigg, Axisweb 2010
' . . . the exhibits are luminous with the life of their maker; her perceptual experience.  Stripped of context or commentary, they are both intimate and transcendent.  From the particular to the universal, from the prosaic to the poetic, Preece's work invites us to engage with familiar objects anew.'
Billie Tilley, Material Presence exhibition catalogue 2018